– 11 Myths About the Vietnam War –
1.) Most who served were drafted.
Actually, most were volunteers – 75% volunteer rate is the generally accepted number. The selective service lottery draft was not instituted until December 1, 1969, for men born between 1944 and 1950. This service represented 9.7% of that generation compared to our present military, 1%. Tours of duty lasted 12 to 13 months. The American war commitment lasted about 14 years.
Our Vietnam involvement began officially in 1961 with JFK's introduction of military advisers. LBJ later escalated the war in '65 into an offensive combat role. Richard Nixon withdrew combat troops in 1973. Our Embassy and remaining personnel abruptly left by rooftop helicopters in 1975.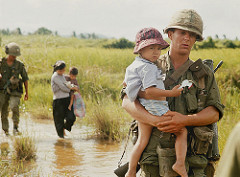 2.) Most soldiers saw combat action on their tours of duty.
Only about one in five saw combat duty, while the others served in support roles. The Marines and Army bore the brunt of the battle. The average infantry experienced 240 days of battle compared to 40 days in the South Pacific during World War II. This is attributed to helicopter tactics in a guerrilla war versus a conventional frontal war. Combat consisted of sporadic firefights, Search &Destroy missions, CAS (close air support) and FAC (forward air control), Marine, Navy, & U.S. Air Force target suppression and bombing missions.
3.) The 1968 Tet offensive by NVR/ Viet Cong in South Vietnam was a communist victory.
Only in the political and media sense in the USA due to anti-war propaganda. From the military standpoint, no major cities were lost, and over 58,000 enemy were killed. That's as many as we lost during the entire war. If we had followed up by invading North Vietnam, the war would have been over. This has been confirmed by North Vietnamese generals and leaders in recent years as we reappraise our strategy. We had them on the ropes and missed the opportunity.
4.) The Vietnam war "unwinnable".
Popularized by Walter Cronkite and other media, the anti-war herd instinct fractured America in half with divisive propaganda.The first domino to fall was not in Southeast Asia, but American popular opinion. America's military's technologic superiority would have prevailed if not for political meddling and mismanagement at the highest levels. Those actions imposed severe restrictions giving the enemy sanctuaries to regroup and resupply. Furthermore, the LBJ administration ignored recommended military offensive strategies to cripple the enemies infrastructure in North Vietnam such as destroying the hydroelectric and petrol structures in North Vietnam and blockading the harbors. And, taking the battle to them in the north was unthinkable. These misguided policies gave credence to Cronkite's declaration in the minds of many Americans.
5.) American atrocities were common.
Only two were documented and prosecuted. The My Lai massacre was infamous. Others atrocities were alleged, but not confirmed. Collateral damage is often confusing in a free fire combat zone and could be construed as an atrocity.
6.) Body counts were falsified.
If anything, they were underestimated at over 300 thousand enemies killed. By the end of the war, twice as many bombs had been dropped in Vietnam as were dropped as in WWII in Europe and the Pacific. There is/was no way to evaluate the body count from this much bombing. In addition, when possible, the Viet Cong collected their dead after a firefight.
7.) Draft dodgers protested against the war.
Many of these folks were probably acting in self-interest to avoid being inducted, not about the larger concept of fighting monolithic Communism. When our troops left Vietnam in 1973, the war went on until Congress cut South Vietnam's support, breaking Nixon's promise to them. The protests stopped while the war went on.
8.) The anti-war activism was a "peace" movement.
It was "peace" in name only. They were only interested in ending American involvement in the war. The activists had little or no concern for Viet Cong or NVR atrocities, the Pol Pot killing fields, or the North Vietnam invasion of Cambodia. Note: The protests ended with our troop withdrawal in 1973.
9.)  Drug use was rampant in Vietnam.
There was actually less drug use by the soldiers than that among hippies and anti-war activists back in the United States. Drug use was rare among combat troops. Drug abuse was confined mostly to secure base camps, often referred to as REMF's by combat troops. One tragic aspect entailed the introduction of high potency opium/heroin, "Burma Gold", to our military, a form of collateral damage in Vietnam.
10.) The war was fought by poor, uneducated young men.
At that time, it was the best-educated force to fight abroad according to the McCaffrey paper. The highest death rate occurred among the most educated: pilots, platoon leaders and field officers. The CACF study became the basis of the Vietnam memorial wall. The average age was 23 and financial status appeared not to be a killed-in-action (KIA) factor.
11.) The Communists still hold POW's and some of those MIA.
There is no verifiable evidence to support this contention after years of intensive searches and studies. Most liked the majority of those MIA were KIA and remain in dense, remote jungles.
Interested in reading my new novel RECALL? Here is the link on Amazon.
Disclaimer: These opinions are the author's.