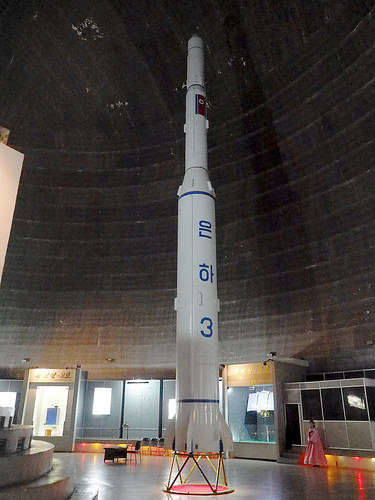 The answer to that question is foremost these days in the minds of our President, his flag officers and security advisors at all levels. Basically, the threat exists, but can Kim Jong-un's rocket scientists launch an ICBM (intercontinental ballistic missile) capable of reaching America's soil? How far are they along in accomplishing that maniacal goal?
Nuclear devices in the hands of an impetuous dictator pose a serious threat, but is it imminent? Has North Korea mastered the technology needed? The test of prototype ICBM on the 4th of July suggests they are making progress. The following is a simplistic overview of the boost, ballistic, and reentry phases in ICBM technology. Launching a satellite into space is a much easier task than developing an efficient ICBM program. Real rocket science.requires expertise. Can they deliver, or is it a bluff?
ICBMs have three critical components: A miniaturized nuclear warhead, some proper propellant/ fueling for a staged long-range missile, and an accurate guidance system to allow re-entry. How does North Korea stack up based on available, non-classified estimations?
Miniature warhead: The technology has been available in the market from rogue regimes for over a decade, so it would be surprising if they lacked that capability. Monitored seismic tests suggest they have a miniaturized warhead in the ten kiloton range to fit on the tip of a three-stage ICBM. Weight is important in rocket technology, thus the need for a small warhead. It would be foolish to assume they lack this component of an ICBM.
Rocket propellant /Fuel: North Korea currently uses liquid, but is developing a solid fuel according to intelligence estimates. Liquid fuel is fragile and more complex than solid fuel and requires a complicated process in preparation for launching the rocket. This allows forewarning by satellite detection from spies in the sky. Solid fuel used in ICBMs provide a 'locked and loaded' ready response. Solid fuel is stable and provides more thrust, plus it is easily transportable. Mobile platforms are difficult to spot and are a moving target for the enemy. We currently know North Korea's launch sites, but if they develop solid fuels they will have mobile launch pads in mountainous terrain that are less detectable, increasing the threat level.
ICBM guidance system: Re-entry of the ICBM into the earth's atmosphere from space requires a precise trajectory and guidance control. An ICBM encounters intense heat and vibration on re-entrance into the earth's atmosphere and at this point in time, our best intel estimates suggest they lack this sophisticated technology. The physics of launching a satellite are much simpler than an ICBM. North Korea has several satellite successes and has demonstrated ballistic capability with their(Unha) missile. With a range of 10,000 kilometers, the rocket can reach Alaska., but it's doubtful it could enter our atmosphere, even if not shot down by interceptors. That's a comforting assumption, but an assumption.
So where does that leave us with the question, "What are the chances of a Pearl Harbor sneak attack?"
North Korea has shown the ability to launch a satellite. A North Korean weather satellite flew over the United States two years ago. Consider this alarming scenario – What if they detonated a ten kiloton nuclear device 150 miles above of stratosphere? What would happen?
That scenario is the topic of my thriller, The Carrington Prophecy.  In 1859, a massive cosmic storm of gamma rays triggered an electromagnetic pulse event (EMP) that knocked out telegraphs worldwide. Night became days, roosters crowed.
Carrington was a British astronomer who predicted another EMP would recur naturally in 150 to 180 years. One just missed the earth in 2012 causing minor electronic disturbances. But, what if North Korea exploded a nuclear bomb in space above our soil? Consider the consequences of an enemy attacking the United States with a massive EMP that would cripple all our electronic systems and power grids, leaving us defenseless. Our IT society would be thrust into the Dark Ages, vulnerable to our enemies.
North Korea has an unstable dictator who is unpredictable and crazy enough to attempt that unthinkable sneak attack. He could possibly try and pull off a nuclear-triggered EMP "Pearl Harbor" with the work he has been doing.
This is a good reason for the United States to be prepared to prevent a disastrous event like this. Stand by…