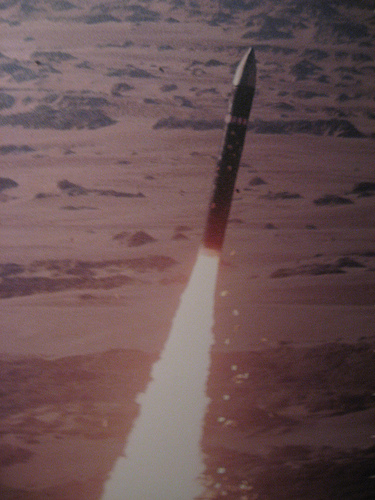 The "Rocket Man," Kim Jong-un, continues to saber rattle, firing another missile over Japan and making threats. What is the best way to deal with a personality like that? It's a dicey situation considering the proximity of South Korea and Japan and our troops stationed there.
The UN voted to increase sanctions, once again, despite this tactic not working for 25 years. These sanctions seem to only hurt the North Korean populace, not the leader and his generals. So what other options exist? This issue was addressed in a previous blog, but this blog considers two new questions.
Why don't we shoot down the next missile that North Korea launches? The 7th fleet has two missile destroyers cruising the sea off North Korea equipped with AN/SPY radar that can detect and track over 100 missiles at a time, negating the MERV factor, if the enemy is that sophisticated in its technology. Why not send a message to cut it out?  Why not shoot them down like target practice?
This is not a bad idea if we're absolutely confident we can accomplish that feat. In multiple tests, including "no notice," the Navy has 83% accuracy, but no "live fire" experience. What if they missed? Surely, that scenario has crossed their minds.
Another consideration, knowing the launch angle and airspeed of around four miles a second, radar instantly calculates the if the missile poses an imminent threat to allies or us. The Navy's job is to protect us and our allies, not the Pacific Ocean. If it's not a threat, why waste a missile and the embarrassment of missing the target? Nevertheless, I predict we may see some target practice if this provocation continues.
Looking at the other side of the equation, how good is North Korea's missile defense? The short answer is virtually non-existent. They are vulnerable to a preemptive strike.
Recently declassified technology, but mostly unknown publicly, Boeing Phantom Works has developed a CHAMP cruise missile with drone programming features that employs microwave technology to knock out electronic systems, much like an EMP attack would. Without communication and power, North Korea becomes defenseless. Look for this to get more public exposure in coming weeks.
But, if you read my last novel, The Carrington Prophecy, you would be aware of this."secret" weapon.
For those who missed reading about CHAMP in the chapters "Boeing Phantom Works" and "Area 51" in that novel, those two chapters are reproduced here.
---
Excerpted from The Carrington Prophecy
Chapter 9 
BOEING – Phantom Work Team
Seattle, Washington
Two days later
"We've been working with K Tech Corporation and Raytheon on a gangbuster project," the young rocket scientist Adam Kahn announced enthusiastically as he rushed over to greet Biff and his counterterrorism team. "Our preliminary tests are very encouraging. Something I'm sure you'll be really interested in, Director Roberts. The timing of your arrival couldn't be better."
Biff shook his hand. "Call me Biff."
Adam was the senior project manager of Boeing's Phantom Works. His office featured a large window with a spectacular view of Puget Sound. Nothing appeared out of place in the upscale, modern office, a sharp contrast to Biff's visit to Jonas Siegel's jumbled Raytheon office in Fullerton last week.
Different folks, different strokes, same discipline … rocket science, Biff thought. The bright young engineer was clearly excited to brief Biff's select group on their latest scientific breakthrough. Adam shook hands with everyone vigorously, memorizing their names, asking their roles, and smiling ear to ear as he graciously chatted them up. Prematurely balding gave Adam a somewhat older appearance that didn't jibe with his youthful energy or with his casual attire of tattered jeans, a t-shirt featuring a large cannabis leaf, and worn Nike sneakers. Must allow him to blend in with Seattle's coffee house crowd, Biff surmised. He appreciated that Adam wasn't the least bit pretentious about occupying such a high corporate position.
Biff had committed to memory the essential bullet points in Kahn's impressive résumé while on the flight from Seoul to Seattle. The data had been forwarded via satellite from Admiral Delaney. The admiral had made a few critical calls to coordinate this special impromptu briefing on Biff's return trip from Seoul.
Kahn had graduated for the University of Washington, cum laude in engineering, followed by a Masters and PhD from MIT, and then a two-year stint teaching at USAF's School of Aerospace Medicine in San Antonio. Finally, he spent a year at NASA before landing the high post with Boeing. The young man had come a long way in a short time, a rising star in the rocket and missile industry.
Adam motioned for them all to sit at a conference table close to the window.
"Whatcha got for me, Adam?" Biff asked as he took a seat, adapting to Adam's informal attitude. Laid back worked for him. D.C. posturing got a bit old.
"I'll brief you on our sensational joint development with K Tech today. Tomorrow morning we plan to fly to Area 51 for a demonstration."
"Area 51?" Biff perked up at the mention of that name.
Adam smiled. "Familiar with that designation?"
"I am, as a matter of fact, KXTA. Some refer to it as 'Dreamland Resort.'" Biff grinned.
"Say no more. You've obviously got the picture." Adam laughed congenially. "Our preliminary CHAMP test with USAF in the Utah desert last week went well. Tomorrow we'll target multiple sites with our EMP cruise missile in Area 51. Your team will be among the first to witness this stunning development in our LRS program."
"Can't wait, Adam," Biff said. "Clarify LRS for my team, please."
"We use a lot of acronyms, sorry. LRS stands for long-range strike program. CHAMP refers to our Counter-electronics High-powered Microwave Advanced Missile Project, our EMP cruise missile."
"Thank you for bringing us up to speed. We're on the same page now. Please continue."
"You're welcome. Let me share some background with you. Basically, we've developed a specialized cruise missile designed with drone programming capability to selectively attack multiple targets. It's equipped with a powerful magnetron that produces a massive pulse of microwave radiation. It has the same effect as an EMP, but the result lacks the intensity of an EMP occurring from a huge solar storm or a high-altitude nuclear explosion. It's a matter of lesser magnitude, but it effectively serves its targeted purpose."
"Sounds very interesting," Biff said. "Tell me about the magnetron."
"The magnetron is a high-powered vacuum tube that generates microwaves that interact and interfere with electrons in a magnetic field. This creates an EMP blast that irreparably destroys electronics but without collateral damage to civilians or buildings. It has the same effect as a MICG bomb, a magnetic flux-compression generator, producing tens of megajoules in tenths of microseconds, but contained in a relatively small package."
Dr. Vincent piped up. "So our preparation for strengthening our national electronic power grids must now include the contingency of an EMP strike from a cruise missile-drone hybrid, as well as from a cosmic event involving the sun, or an EMP attack triggered by a high-altitude nuclear blast."
"You got it, Doc," Adam said. "Heads up. We're entering a new era in modern warfare, rendering the enemy's electronic and data systems useless before the first troops arrive. You'll witness its effectiveness firsthand in tomorrow's demonstration in Area 51."
"I find that worrisome, Site M stuff," Dr. Vincent commented.
Adam frowned. "Site M?''
"Fort Meade's top-secret warfare development center for the Pentagon," Biff interjected. "Classified, better leave it there."
"Well. I suppose it depends on who's being attacked or who's attacking," Adam retorted. "Best to be in the driver's seat. Wait 'til you see tomorrow's demo."
Chapter 10
AREA 51
Nevada, the next morning
Area 51 was part myth, part extraterrestrial fantasy, and part mystique, but in reality a top-secret military base located for decades in a remote Nevada salt flat next to a large dry lake called Groom Lake. As the subject of UFO and alien conspiracy theories, sci-fi films, and the development and test site of military technology such as the atom bomb, U2 surveillance aircraft, and the F-22 Raptor fifth generation stealth fighter, the base was legendary.
Biff knew Area 51 well as KXTA, a CIA "Black Project" test site; clandestine code names Aquatone and Oxcart came to mind. Well suited for secretive activity in its isolated desert spot, it was really out in the middle of nowhere, eighty-five miles north-northwest of Las Vegas.
After they passed through multiple layers of security, Adam greeted Biff and his team and escorted them to the base commander's office for a brief introduction. Biff was amused to note that the commander had a bronze sign on his desk that read: Real life beats the imaginary lives here.
Adam then led them to the area where the Phantom team was developing the innovative, top-secret weapons system. They took an elevator several flights down to an underground laboratory complex.
"Like in Vegas," Adam related. "What happens here, stays here." He smiled at his own quip.
"You don't need a library card to educate yourself in EMP technology, gentlemen. Plenty of information is out there on the Internet. The essence is developing EMP waves into a reliable weapons system." He led them through a pair of heavy metal doors into an enormous underground hangar.
"Here's what we've come up with." He pointed proudly to a large rocket on a mobile launch pad.
"That's our CHAMP-EMP cruise missile."
"What's the missile's range?" Biff asked.
"Over six hundred miles, about the same as a Tomahawk missile."
"Size?''
"Slightly bigger than the Tomahawk."
"Which is about twenty feet with a booster," Biff noted, making a mental note of the missile's specs.
"Right on, Director, you know your missiles."
"Thanks. Tell me about the launch protocols."
"Plane, ship, or from a stationary or mobile pad are equally reliable. That gives you a variety of attack options."
"What about from a SSGN's VLS?"
"Now that's an interesting concept, using an attack submarine's vertical launch system. That would enhance the stealth factor and add another element of surprise. I'm certain our CHAMP missile could be modified for a vertical launch system compartmentalized in a guided missile submarine. Got something in mind?"
"Just brainstorming applications, preparing for any contingency."
"Okay, got it. That's an idea worth pursuing. We'll check it out and get back to you."
"I'd appreciate that, Adam. Soon as possible."
"Today's demo is set for noon. Let's get over to our control center to monitor the launch effectiveness. The missile is programmed to target six buildings filled with functioning electronic equipment and test animals in the Tonopah test range seventy miles northwest of here. We can watch the live feed video from drone control and satellite."
—- —– —– —— —– —— ——–
Two Hours Later
"How's that grab you, fellows?" Adam said. "The CHAMP flyover successfully fried the targets' electronics without harm to the animals or the six structures, hitting the targets' precisely programmed coordinates dead on."
"Impressive demonstration, Adam," Biff acknowledged. "You're convincing me you're on to something with this new EMP weapons system. It seems you've invented a new mousetrap, young man."
Adam chuckled. "Guess the Defense Department will soon be beating down our door." He paused before adding, "Stay for a late lunch? We have time to hit Vegas, just a short hop by plane. I know some great spots."
"Thanks, but we have to get back East. Have another stop on my information tour. Sure appreciate your time and effort in educating us on the new weapon. Super demonstration, spectacular targeting. CHAMP may come in handy. Can you loan me the specs of your new mousetrap?"
"No problem. Got several copies right here, classified, of course," he added, smiling.
"I think I have proper clearance," Biff replied, grinning. "Need my ID?"