50th Anniversary of the Tet Offensive – Turbulent Times
The North Vietnam invasion of South Vietnam on the Chinese New Year in 1968 went on for a year and was marked by the most intense and sustained fighting of the war. (I detailed more about this in my first post, 50th Anniversary of the Tet Offensive.) Despite its determination, the North Vietnamese Army (NVA) failed to take a province or major city and suffered over 58,000 fatalities. Most would consider this a military victory for the other side.
However, in the States the perception persisted that we were losing the war. Fanned by the negative drumbeat of the media and characterized by Walter Cronkite's remark that the war was "unwinnable," the anti-war protests escalated into anarchy in many cities.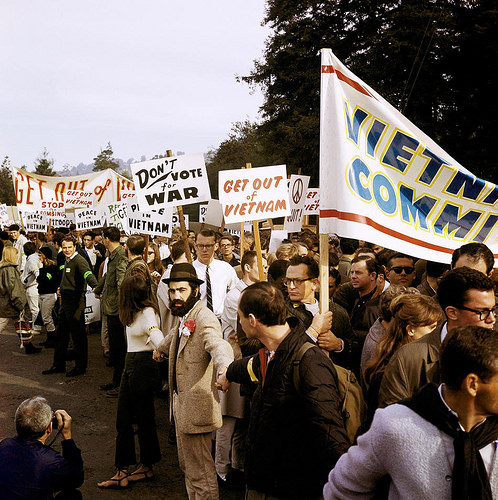 Fifty years ago this month signaled the onset of one of the most turbulent years in the history of the Republic as the "cultural" war raged on, polarizing the nation into right and left political camps. The division fractured the country, resulting in a series of surprise developments.
In March, Senator McCarthy defeated President Johnson in the New Hampshire primary, supported by anti-war activists. Two weeks later, LBJ announced that he would not run for reelection, shocking the nation. Nixon won the Presidency in November.
The following week, April 4th, Martin Luther King was assassinated, igniting race riots. Draft card burning escalated on campuses. Columbia University activist students took over five buildings to stage anti-war protests.
The turbulence continued into July when a Palestinian immigrant, Sirhan Sirhan, assassinated Robert Kennedy, shooting him at close range in Los Angeles.
On the international front, the Soviet Union rolled tanks into Prague, turning "Springtime into Winter," twelve years after occupying Hungary in a similar fashion.
Chaos and civil unrest continued into the summer in the U. S. with pitched battles between police and demonstrators at the Democratic convention in Chicago. The Yippie leader Abby Hoffman was arrested.
Vietnam is not a warm and fuzzy story. It is a story of lessons learned, and unlearned. History is a good teacher. We should not ignore it.
Vietnam remains controversial fifty years later, even among some of those who served. How should we define "victory"?  The military has a concise idea, many politicians do not. Vietnam is a prime example of fighting a war with serious self-imposed restrictions. Declassified CIA intelligence estimates in the '80s documented egregious mistakes by our administrations, LBJ's in particular.
Recall all those events or want to learn more about them? Read my recently published historical narrative, RECALL, which touches on all of these events and the turbulent times surrounding that era.